News
U.W.I New Administrative Building Cornerstone Unveiling and Tree Planting Ceremony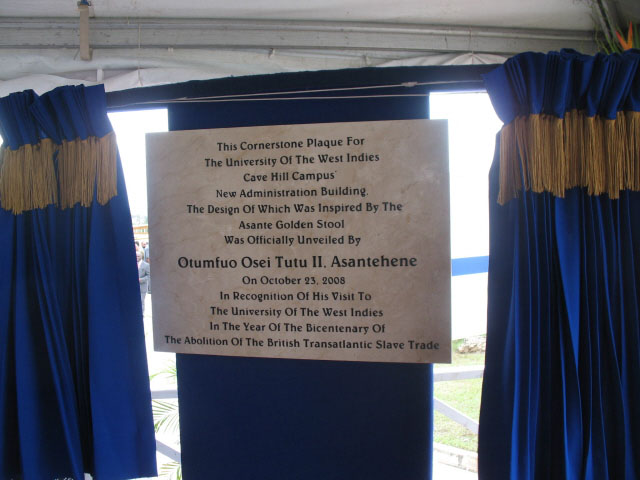 October 2008 - Work at the New Administration Building of the University of the West Indies has been progressing superbly and on October 23, 2008, the Cave Hill Campus was honoured to feature as their guest at the ceremony for the unveiling of the building's cornerstone, His Majesty Otumfoe Osei Tutu II, Asantehene, the 16th occupant of the Golden Stool of Ashanti.
As previously mentioned, this project was launched to mark the bicentennial of the abolition of the British Trans-Atlantic Slave Trade and uses the architectural motif of the Golden Stool, a curved seat which is cultural shrine that sits beside the Asantehene when in state. The Stool is also a symbol of wisdom, leadership, ancestral presence, nationhood and believed to contain the soul of the Asante people of Ghana.

At the ceremony, Professor Sir Hilary Beckles announced that they have developed a programme of commemorative events to celebrate our Ghanaian roots which in addition to the building of the new Administrative offices, will include a series of public lectures focused on the building on African labour and society in Barbados as well as the establishment of a Masters Degree in African History in collaboration with the University of Ghana.
After the unveiling, the Asantehene also participated in the planting of a Baobab tree on the site, a seedling of one of the oldest trees in Barbados found in Warrens and which dates back to around 1738.
Innotech Services Limited are delighted to be associated with this historic bicentennial event and to be the trusted construction management company selected to bring to life this unique architectural representation of the history of Ghana and its historical linkages with Barbados.